Posts for tag: oral health
By Boulevard Dental Associates, PA
August 15, 2018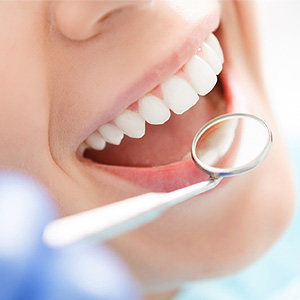 Acquired Immune Deficiency Syndrome (AIDS) jolted our collective consciousness in the 1980s. The deadly disease caused by the human immunodeficiency virus (HIV) had no known cure and, at the time, no effective treatment.
HIV is a retrovirus, a virus with a genetic makeup and reproduction system differing from other kinds. After taking up permanent residency in the body, HIV begins "hijacking" the replication process of cells in the body's immune system and replacing it with a copy of its own. This destroys the cells' ability to protect the body from hostile organisms. As the virus affects more and more cells, the patient's condition ultimately develops into AIDS.
An estimated 35 million people worldwide (1.2 million in the U.S.) are currently infected with the virus. Thanks to new antiretroviral drugs, though, HIV can be kept from accelerating into AIDS. While their condition remains serious, many HIV positive patients can now live long and relatively normal lives. Even so, having the virus requires them to pay close attention to their health, including their mouth.
Even while stalled from becoming AIDS, HIV can still cause oral problems for 30 to 80% of patients. The fungal infection candidiasis (also known as thrush) is the most common of these problems, which appears as lesions, cracking skin or creamy white patches on the tongue or palate that easily bleed. Patients also have higher risks for dry mouth, oral cancer and periodontal (gum) disease.
HIV positive patients must practice diligent daily oral care and see their dentist for checkups regularly. Prevention, early diagnosis and treatment can keep gum disease and other damaging conditions under control. Monitoring oral health is also important because certain mouth conditions could be an early sign the infection is entering a new advanced stage in the body that requires additional attention.
Keeping vigilant in all aspects of health is a way of life for someone with HIV. Such vigilance, though, can help them maintain a healthy mouth and even prolong their life.
If you would like more information on how to manage oral care with HIV, please contact us or schedule an appointment for a consultation.
By Boulevard Dental Associates, PA
August 05, 2018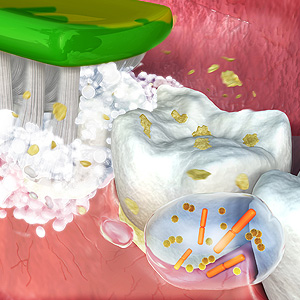 Mention "bacteria" and people begin looking for the germicide. The truth is, though, only a few strains cause disease — the rest are benign or even play a beneficial role.
This may shock you, but your body both inside and out is home to around 100 trillion single-celled organisms, exceeding the number of your native cells by 10 to 1. You won't notice them, though: bacteria are so small they only make up 1 to 3% of your total body mass. And each of us has a unique "microbiome" of micro-organisms: they influence a variety of processes like digestion and metabolism, and some even "teach" our immune systems to distinguish between helpful and harmful bacteria.
Of the 10,000 or more species of bacteria that inhabit the body, perhaps the most studied and understood are in the mouth. We even have a database that catalogs the gene sequences of oral bacteria. And what we've learned has enlarged our understanding of dental disease and how to prevent or treat it.
This new knowledge, for example, confirms that many of our modern lifestyle habits adversely affect oral health. For example, researchers have found higher concentrations of Streptococcus mutans, the bacteria most responsible for tooth decay, in current samples of biofilm than in those from preindustrial eras. The culprit seems to be the modern diet rich with carbohydrates like sugar that bacteria eat. Cigarette smoking can also make the mouth friendlier to disease-causing bacteria.
On the bright side, our growing knowledge of oral bacteria is helping us devise better prevention and treatment strategies. One example is the use of antibiotics to reduce the populations of disease-causing oral bacteria.
The broad, traditional approach kills not only malevolent bacteria, but beneficial strains as well. The approach may also be helping bad bacteria become resistant to common antibiotics. A newer approach targets specific bacteria with custom-designed antibiotics that won't kill other bacteria. There's also increased focus on ways to re-balance a person's normal microbiome if it's become skewed.
As we come to understand bacteria better — both good and bad species — these and other dental care efforts will benefit. With our increasing knowledge of these microorganisms that surround us the future looks bright for better oral health.
If you would like more information on the role of bacteria in oral health, please contact us or schedule an appointment for a consultation. You can also learn more about this topic by reading the Dear Doctor magazine article "New Research Shows Bacteria Essential to Health."
By Boulevard Dental Associates, PA
April 02, 2018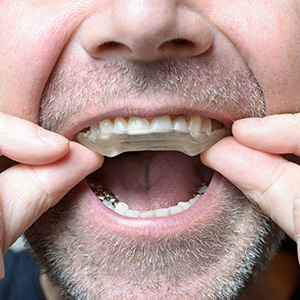 Lots of people don't know that April is National Stress Awareness Month; don't fret if you're one of them. For many, stress is already a common feature of everyday life. According to the American Psychological Association, 62% of Americans are stressed at their jobs, and stress has been estimated to cause the loss of some 275 million working days every year.
In addition to its other negative physical and mental consequences, stress can also spell trouble for your oral health. It may lead to the problems of teeth clenching and grinding, which dentists call bruxism. A habitual behavior that can occur in the daytime or at night, bruxism is thought to affect perhaps one in ten adults. While the evidence that stress causes bruxism is not conclusive, there's a strong case for the linkage.
Bruxism sometimes causes symptoms like headaches, soreness or pain in the jaw muscles or joints, and problems with fully opening the mouth. It can be detected in the dental office by excessive tooth wear, and/or damage to tooth surfaces or dental work. Grinding or tapping noises heard at night may indicate that someone is grinding their teeth while sleeping. In children, nighttime bruxism is common and not necessarily a reason for concern; in adults, it may be more troubling.
So what can you do if you're experiencing this problem? If you find yourself clenching and grinding during the daytime, simply becoming more aware of the behavior and trying to limit it can help. A bit of clenching during times of stress isn't abnormal, but excessive grinding may be reason for concern. Many of the same techniques used to relieve stress in other situations—such as taking a step back, talking out your issues, and creating a calmer and more soothing environment—may prove helpful here as well.
Occasionally, prescription drugs may cause bruxism as an unwanted side effect; in this case, a medical professional may recommend changing your medication. The use of stimulants like coffee and mood altering substances like alcohol and illicit drugs have also been associated with teeth grinding—so if you're having this issue, consider foregoing these substances and making healthier lifestyle choices.
There are also a number of dental treatments that can help protect your teeth from excessive grinding. The most common is an occlusal guard or "night guard." This is a custom-fabricated appliance made of plastic that fits comfortably over your teeth. Usually worn at night, it keeps your teeth from actually coming into contact with each other and being damaged. Occasionally, additional treatments such as bite adjustment or orthodontics may be recommended to help solve the problem.
If you would like more information about teeth clenching and grinding, please call our office to schedule a consultation. You can learn more in the Dear Doctor magazine articles "Teeth Grinding" and "When Children Grind Their Teeth."